YOUR DINNER GUESTS WILL LOVE YOU
But don't confuse the salmon & chicken.
We found this to be a perfect midweek lockdown treat. Works with salmon or chicken and with a side dish of Bang Bang Cucumber. Served with jasmine rice and stir-fried Asian greens.
---
Ingredients
500 g of Salmon fillet (skin on) cut into 4 pieces
or 500 g (roughly 4) Chicken Thighs (skin on)
For the teriyaki source
1 tbsp Rice Wine or Mirrin
1 tbsp Brown Sugar or Honey
2 Garlic cloves — minced or finely grated
2 tbsp Ginger — minced or finely grated
1/4 Cup of Light Soy Sauce
1 tbsp Cornstarch + 1 tbsp cold water to thicken up the sauce (mix first)
Top with 
Spring Onion — sliced on the diagonal
Sesame seeds — go for it
Asian Greens
use Bunch of Bok Choy
Pak Choi
Choy sum
add Snow Peas for extra crunch and flavour
1 clove of garlic (finely chopped or grated)
1 cm of peeled grated ginger
Good dollop of oyster sauce
Splash of fish sauce
---
Method
TERIYAKI SAUCE
Make the sauce first — half is used to marinade the salmon or chicken.
Combine all of the ingredients except the cornstarch mix in a bowl. Use half for the marinade — set aside the other half to combine with the cornstarch mix. When ready, in a small saucepan, on a low heat, stir the mix until it begins to thicken, then pour your teriyaki sauce over the salmon or chicken. It's that simple… Add the chopped spring onion and liberally sprinkle with sesame seeds.
TERIYAKI SALMON OR CHICKEN
Place the salmon or chicken fillets in a bowl and marinate for 30 minutes (note that we generally chop the chicken thigh fillets into 3 pieces).
When you are ready to cook heat a little oil in a large skillet (you don't need much oil). Add salmon filets my pan takes up to 4, don't overcrowd! Cook for 3 to 4 minutes on each side, looking for a nice colour, start with the skin side down and get a little crispy. Meanwhile, heat the reserved marinade in the saucepan and bring to a simmer. Add cornstarch and water to a small bowl and whisk to combine. Slowly whisk in the cornstarch mixture to the marinade and simmer until thickened. Serve immediately with the teriyaki sauce drizzled on top as well as spring onions and sesame seeds.
---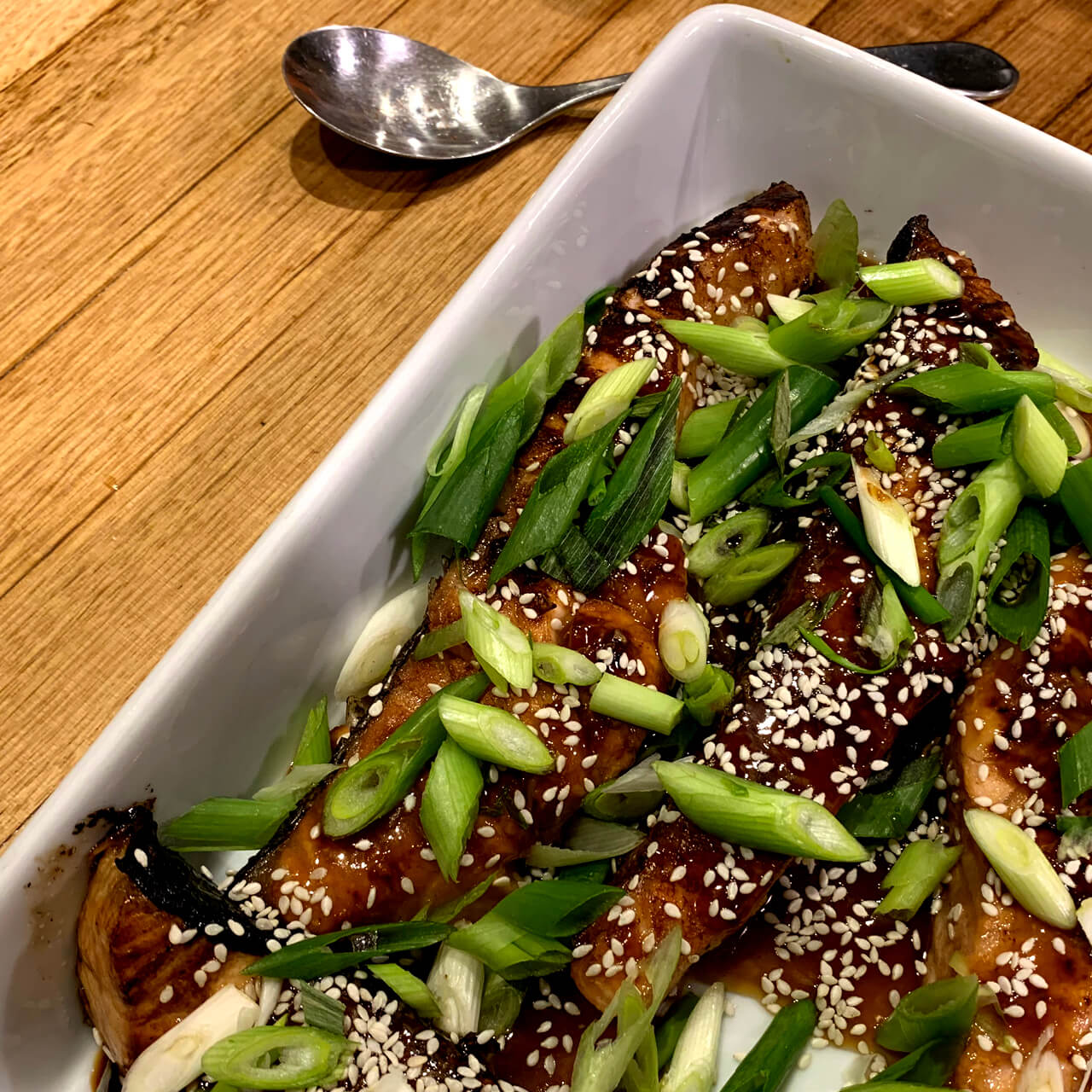 Salmon, not chicken