EAT LIKE A PEASANT AND FART LIKE NOBILITY
The soup to make when a friend gives you silverbeet.
This is pretty much an Italian bean soup that's a little watered down (lol). I do think Nigel Slater's version, with parmesan rind and crostini, is the bomb and there are countless versions of this soup with kale and other ingredients — but this is the Chops For Tea version without the cheese, although you may well be cutting some… Its heartfelt goodness will sound aloud, eat with close friends.
Prep Time: 15 minutes | Cook Time: 25 minutes
---
Ingredients
4 tablespoons extra-virgin olive oil
3 garlic smashed
1 large onion chopped
4 carrots peeled and chopped
3 celery stalks chopped
1/4 teaspoon chilli flakes
1 generous teaspoon finely chopped fresh (or dried) rosemary
1 x 400 g tomatoes
1 cup passata
3 tbsp tomato puree
3 x 400 g mixed beans — cannellini, red kidney, butter beans (you name it) rinsed & drained
1 bunch Silverbeet with stems and ribs discarded, leaves chopped
2 bay leaves
Salt to taste
Freshly ground pepper

Serve with
1/2 cup grated Parmigiano Reggiano cheese
Fresh sourdough with plenty of unsalted butter of course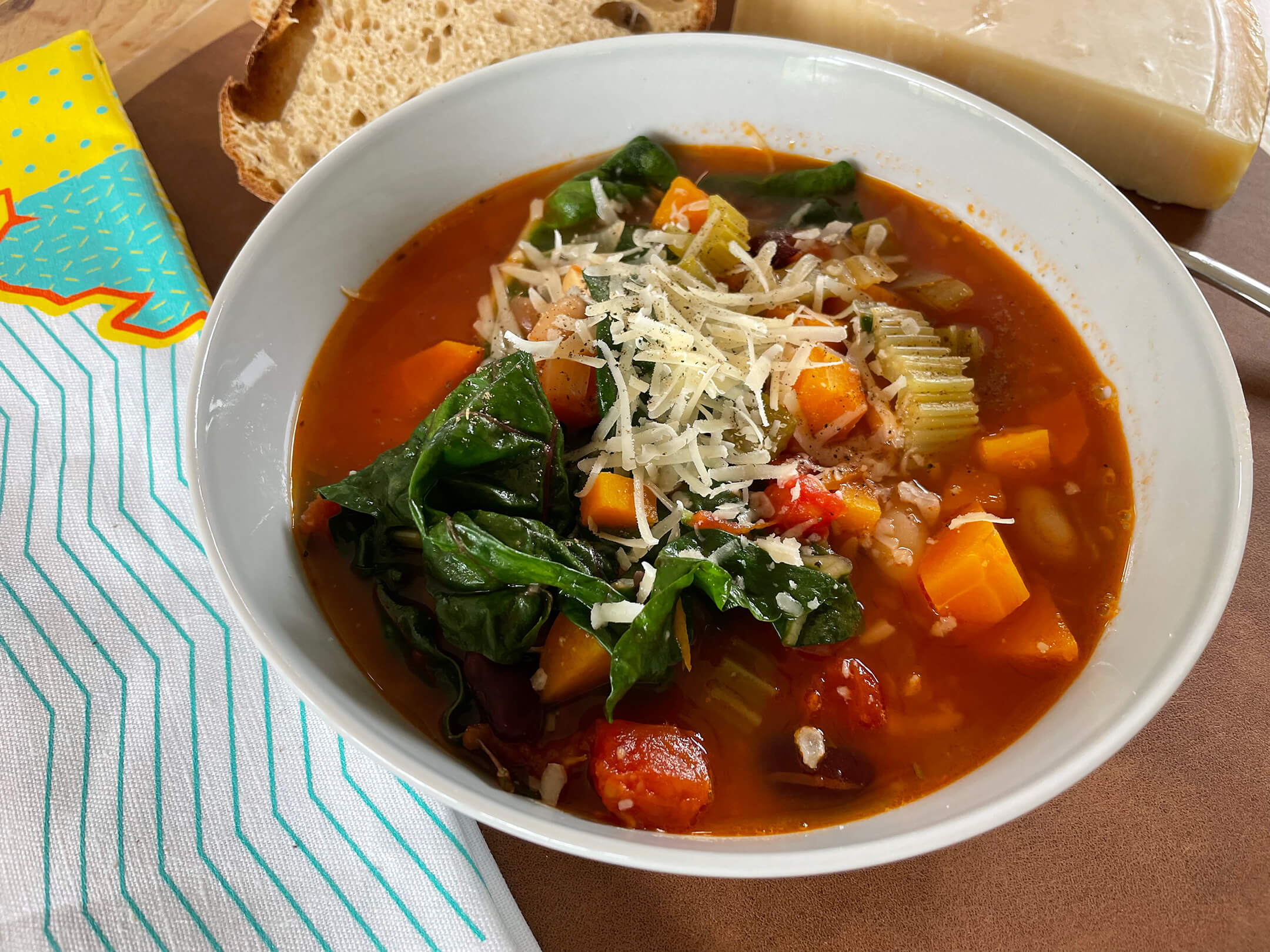 Method
In a large pot, heat the oil add the garlic and soften the onion.
Add the carrots, celery and chilli flakes, with plenty of salt & black pepper. Continue to soften ensures nothing sticks to the pan. Once the veg begins to soften too add the rosemary, tomatoes and passata.
Stir away, then add the puree and tins of mixed beans (remember to rinse the beans).
Add the bay leaves and simmer for a few mins. Add the silverbeet and cook until the leaves wilt – DO NOT OVERCOOK — carrots should still have some bite.
Season again and serve with freshly grated parmissan.
---