ECOTECH
ECOTECH have pioneered innovative solutions in environmental monitoring for over 40 years. We've been helping them for the last 4 years developing their brand and marketing collateral, helping communicate their products and services to a global audience.
ECOTECH is a global leader in the design, manufacture, operation and maintenance of air, water, gas, meteorology, blast, particulate and dust monitoring systems — with a single aim — to help their customers to support sustainability of industry, ensure the wellbeing of their community, and protect the environment.
Customers range from large scale primary industries including mining, oil & gas, construction to government EPAs (Environmental Protection Agencies) consulting, research and process industries.
---
Deliverables
+ Extensive brochureware
+ Exhibition banners & displays
+ Conference collateral
+ Specification sheets
+ Presentations — internal & external
+ Internal & external marketing collateral
+ Digital collateral including: banner ads / email banner signatures
+ App design & product interfaces
+ Brand consultation
+ Video content & image creation
---
Brochures are an essential part of ECOTECH's marketing strategy.
 

They serve a number of clear purposes —

 

effectively communicating the product or service to their target audiences and providing handy reference points both externally and internally. In the hands of a skilled communicator, good looking brochures are a powerful selling tool.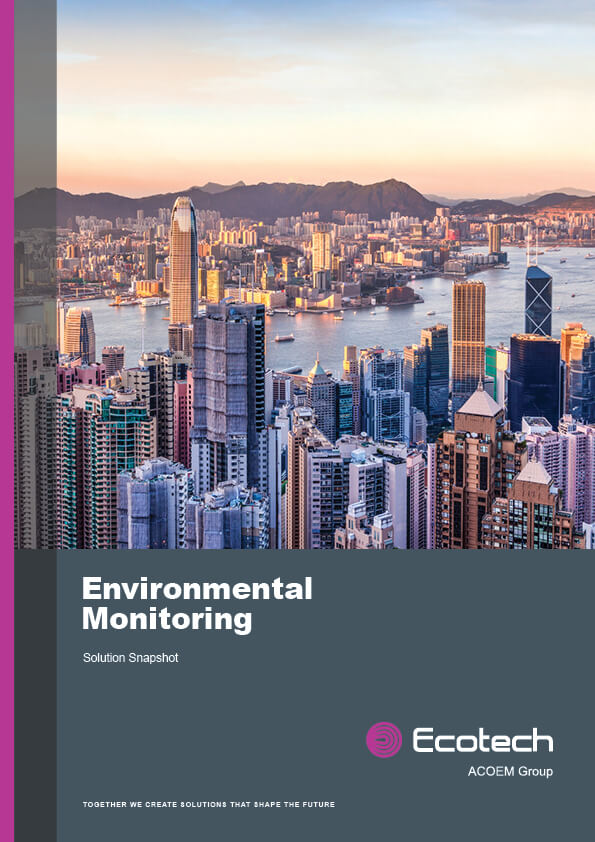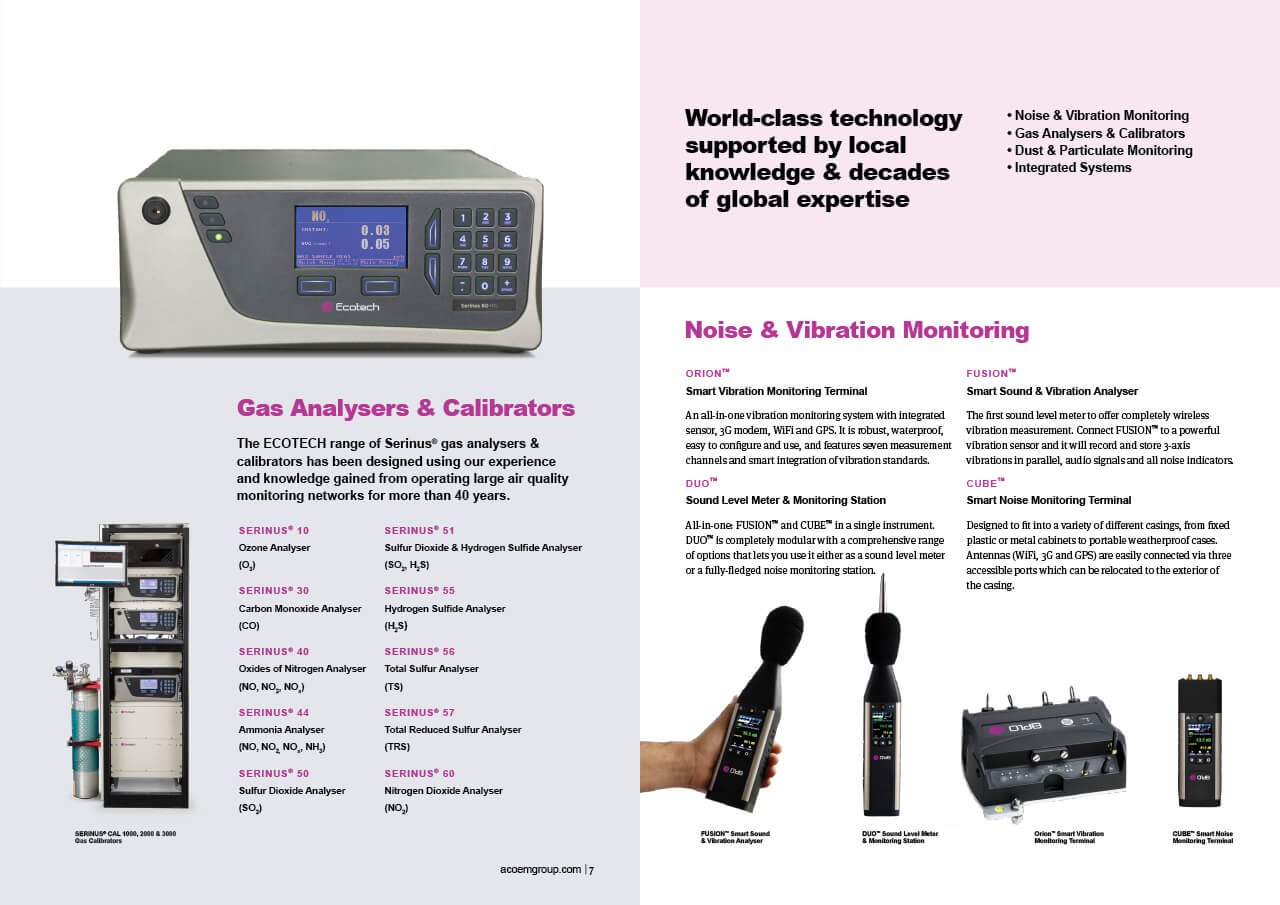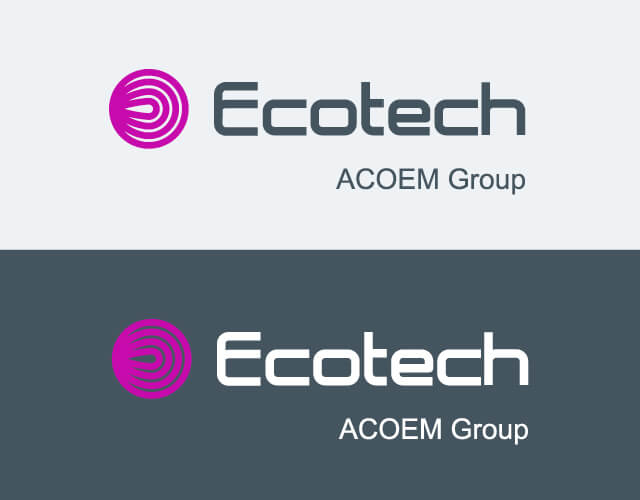 ECOTECH was acquired by French company ACOEM in 2018.
The current visual identity falls in line with ACOEM's visual identity system. However, we have had a major influence is shaping the look and feel of all visual communications — including the recommendation to adopt magenta as part of distinctive colour palette.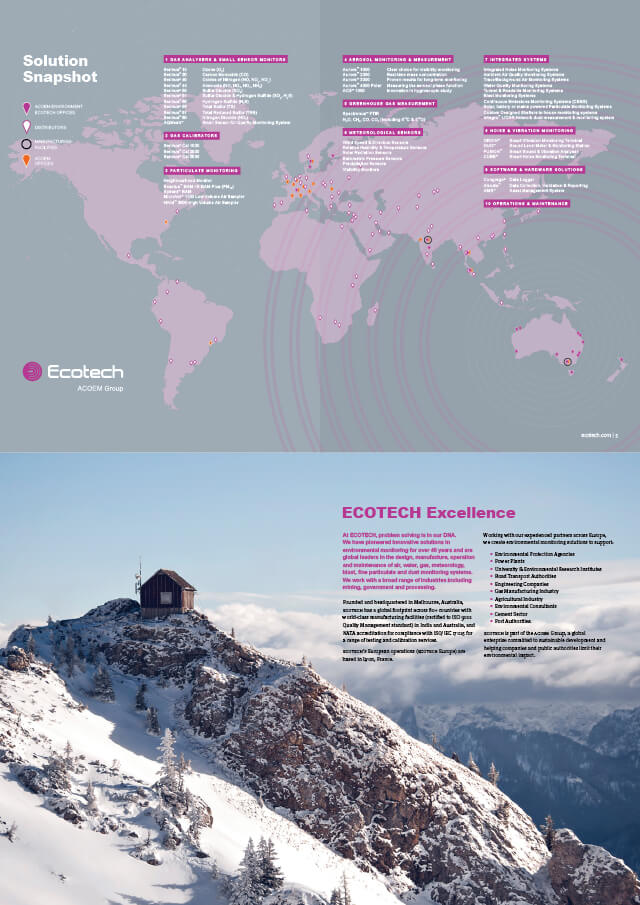 Brochure content, imagery and illustrations vary greatly, however there is a strong and consistent visual style that we have developed over the years.
Solution snapshot brochures provide an extensive overview of ECOTECH's products & services.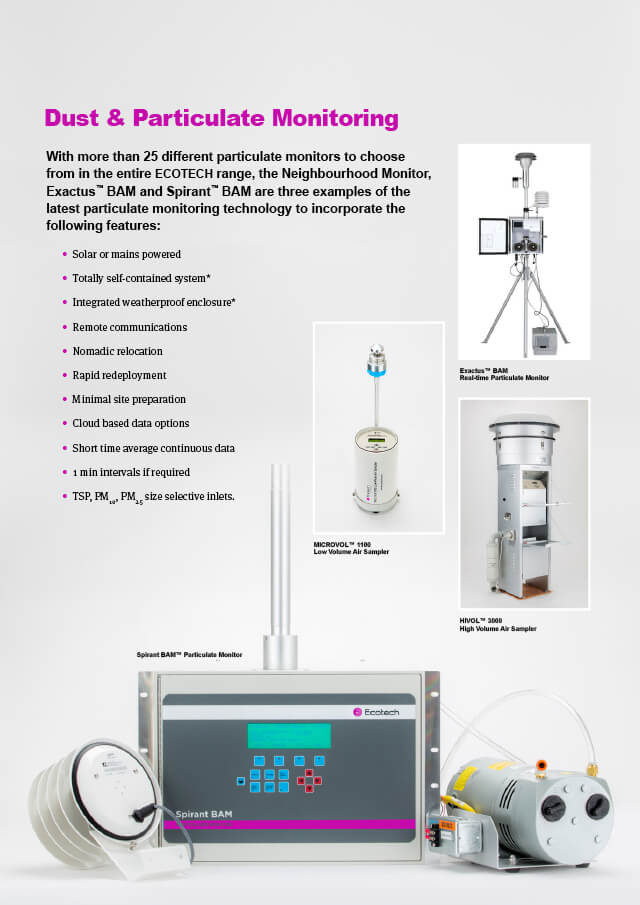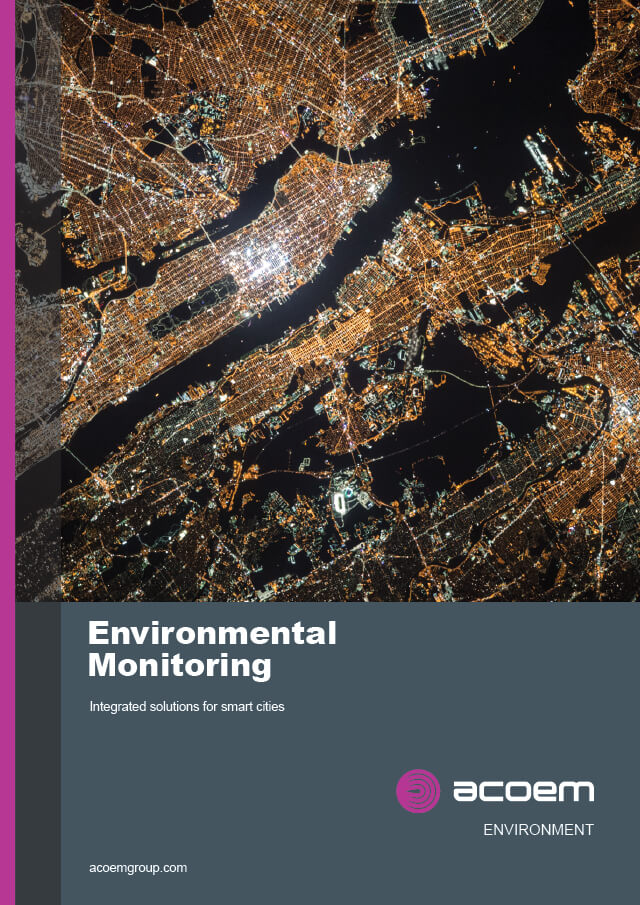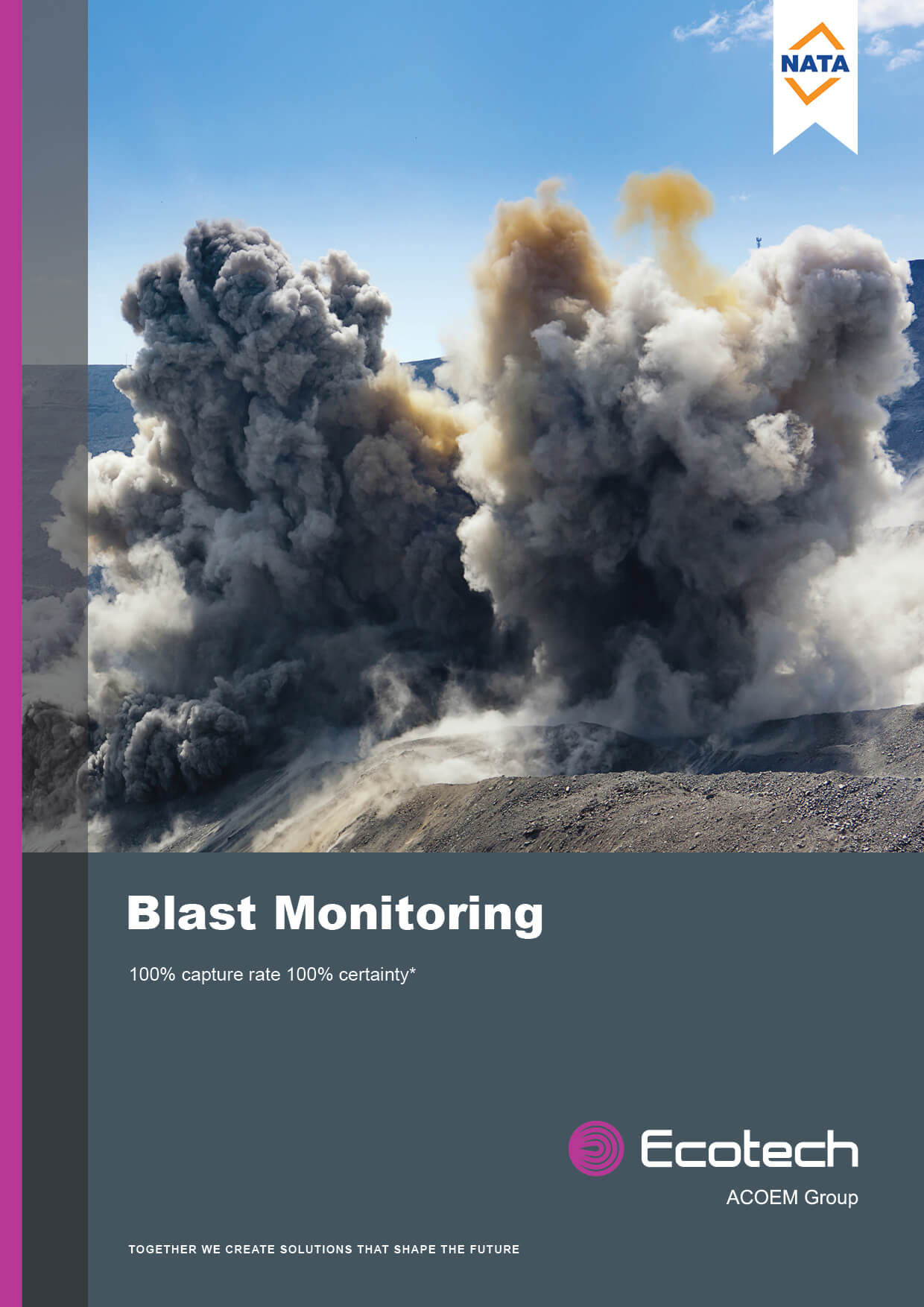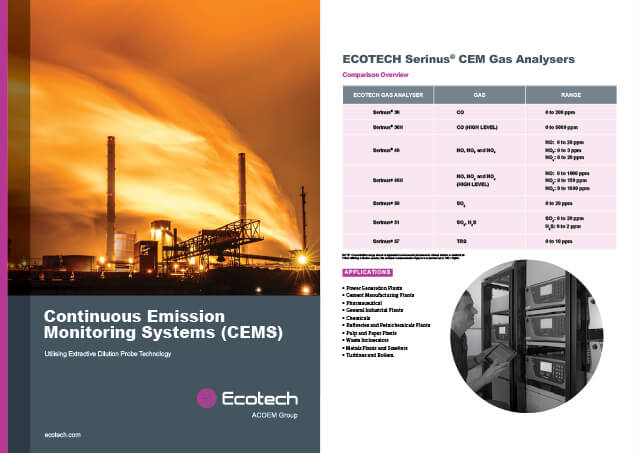 CEMS Brochure
Over the years we have developed a strong visual system for all brochures. We use just 2 primary fonts across all communications — Arial and Meta Serif Pro.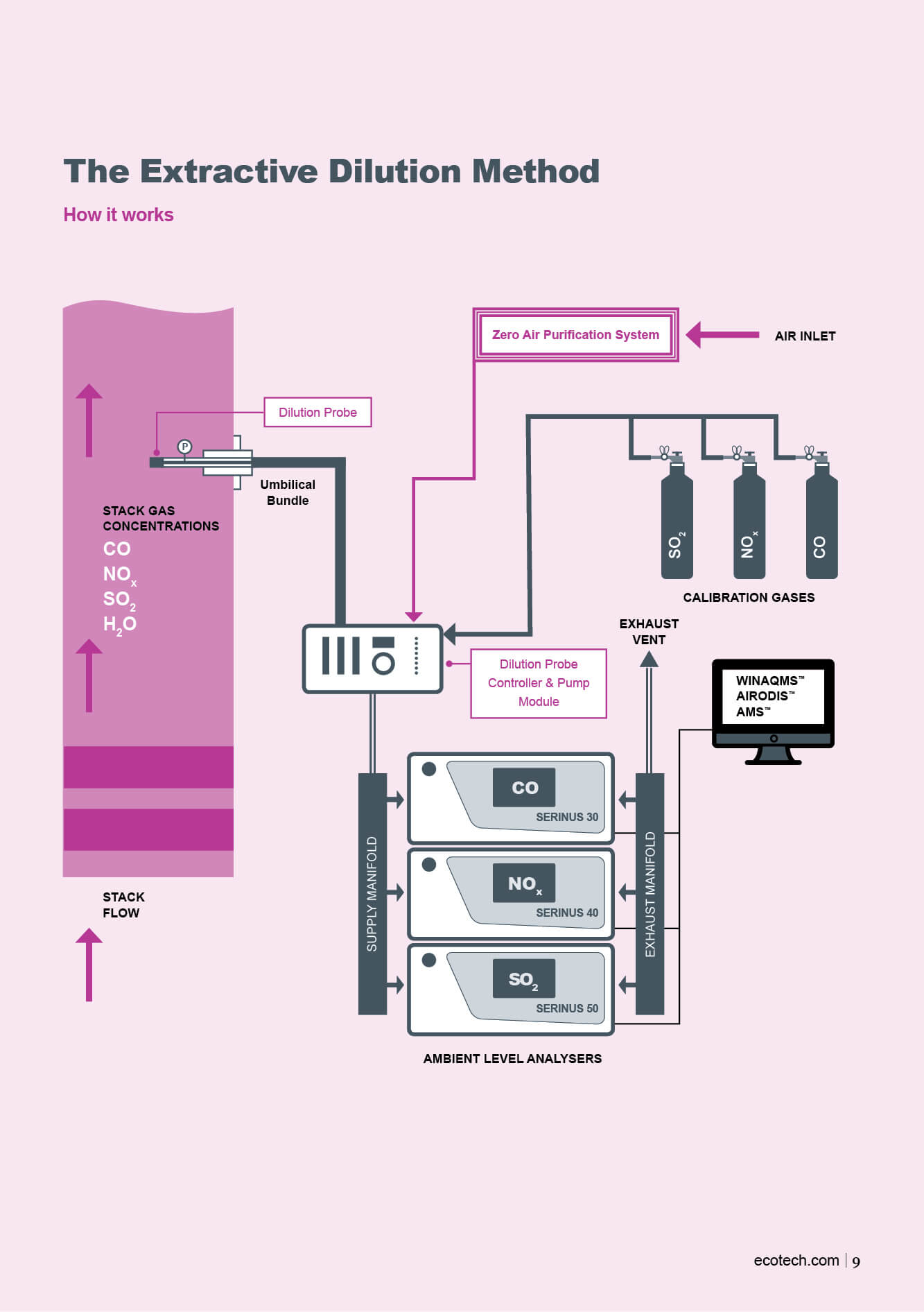 We have created a distinct illustrative style for ECOTECH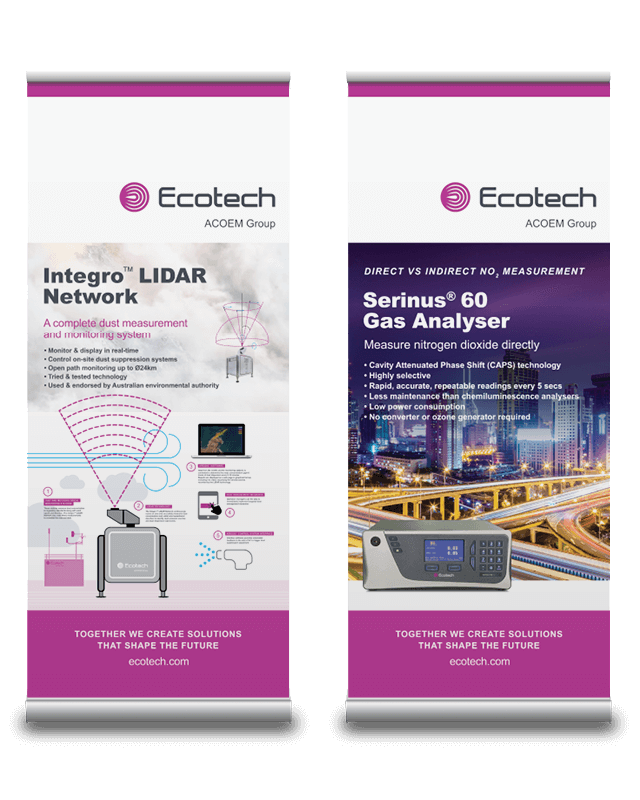 Display banners are integral to ECOTECH's visibility
Ecotech exhibit around the world at environmental conferences and shows. We've developed a complete banner system to communicate all manner of messaging and product information.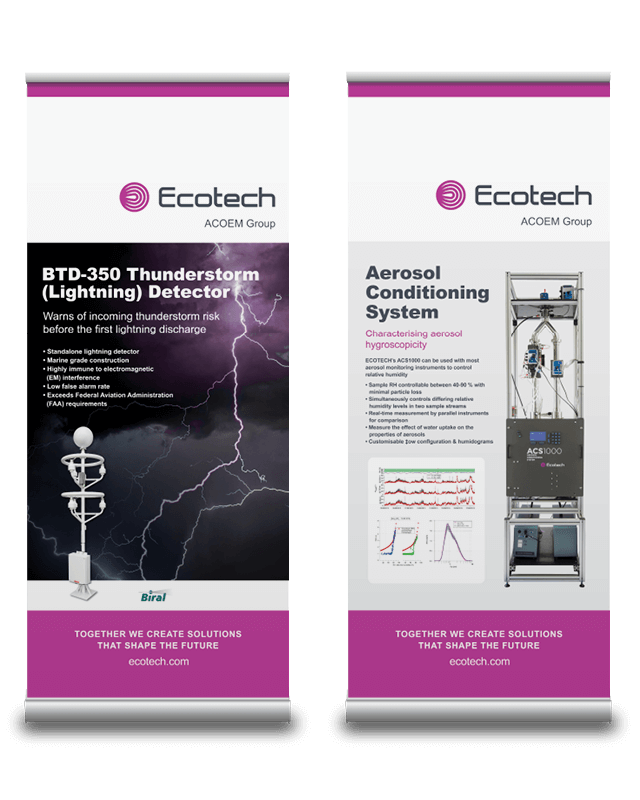 Nordic Environmental Brochure details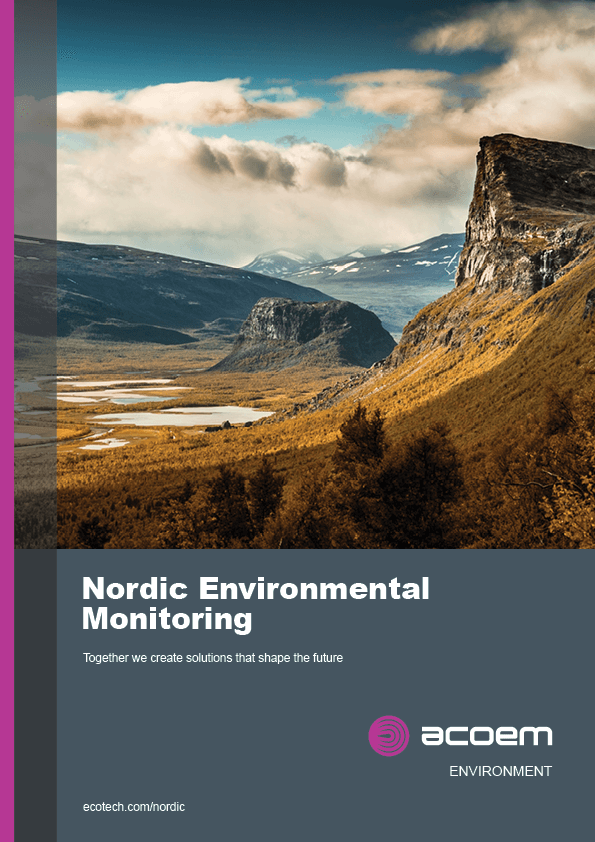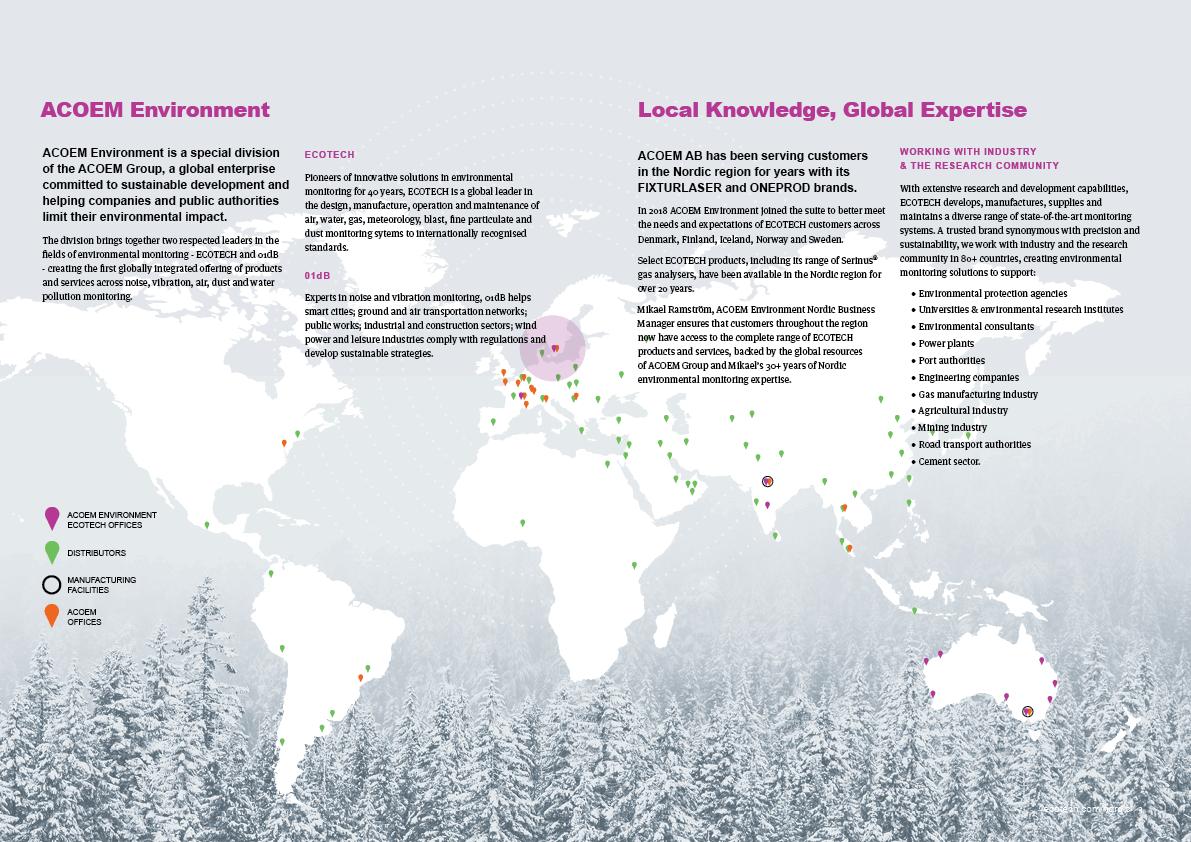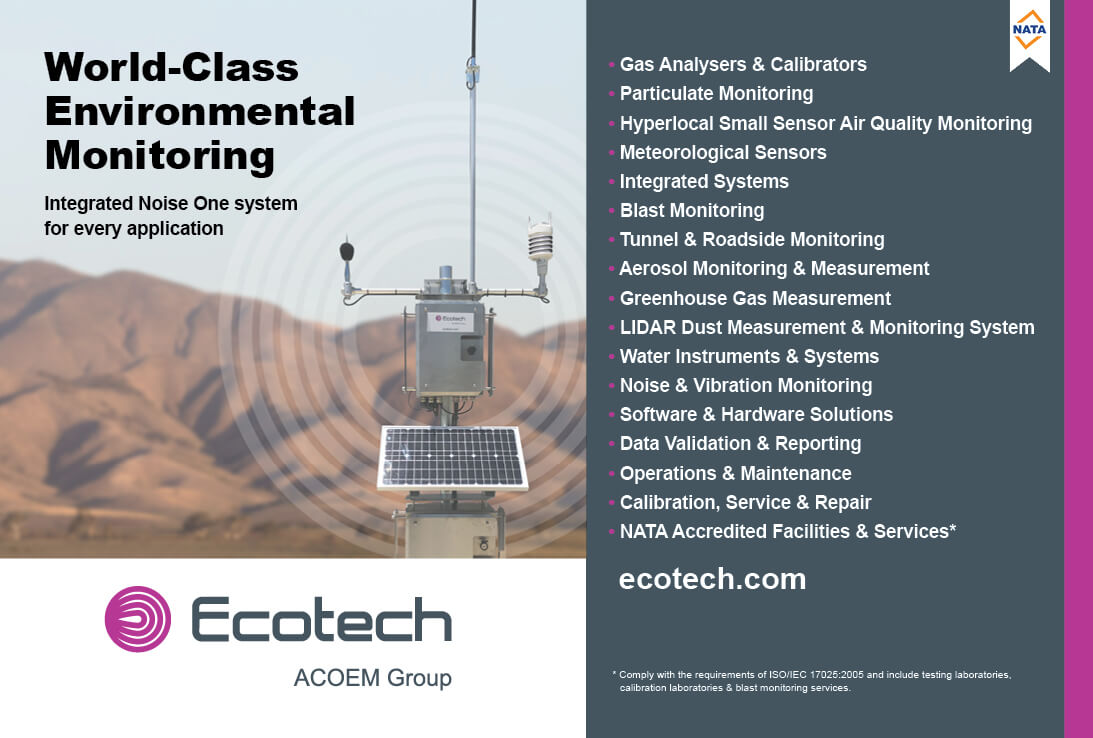 Press Ads for CASANZ trade journal 2019.
Press ads are still and effective way to reach ECOTECH's target audiences. Again we employ a strong visual style that is distinctly ECOTECH.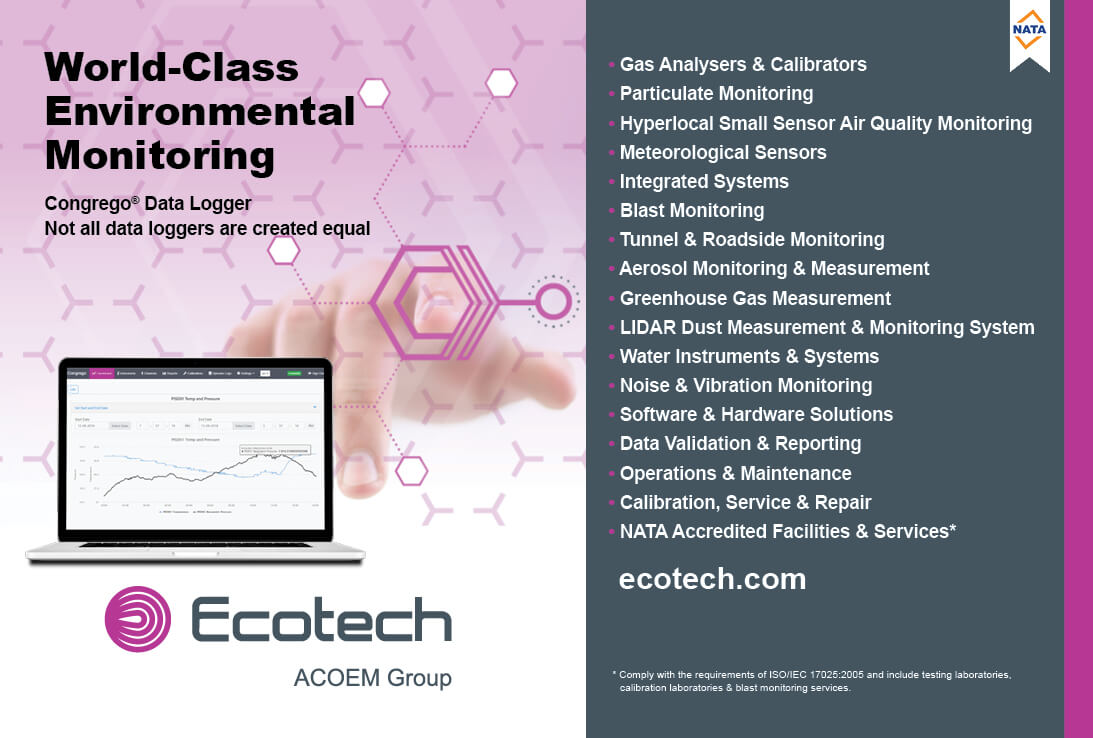 Developing brand communications through a distinctive visual style has helped reinforce ECOTECH's global positioning as a major player.
Brochure spread for the Congrego™ Data Logger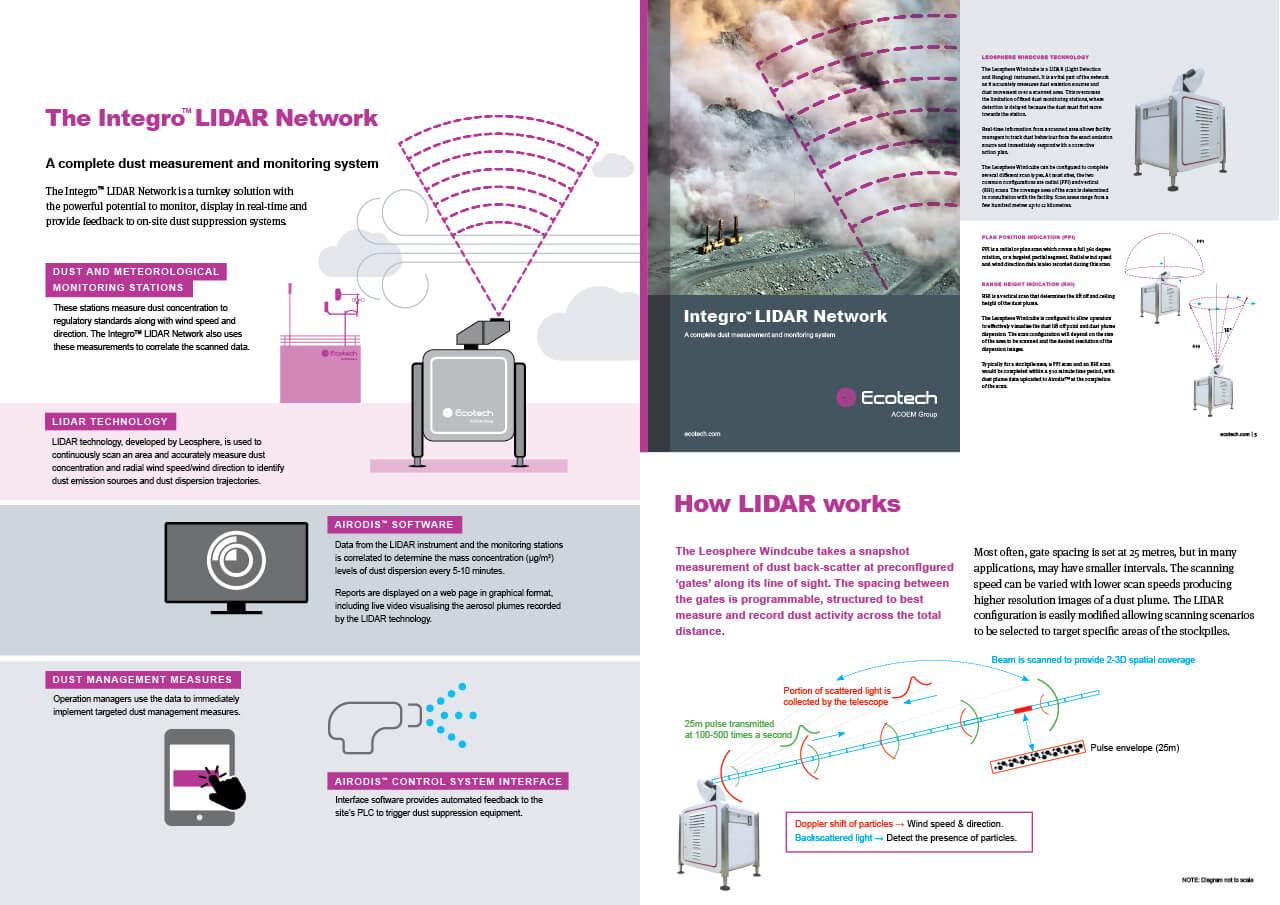 Brochure spreads for Ecotech AQ Mesh, small sensor monitoring pods.
Thank you for your input to our recent 40 year anniversary publication, 'Together'. The book has far exceeded my expectations and will become a pivotal piece of our history and culture for many years to come.

Thanks to you and your team for helping us make it happen. Feedback from all around the world reinforces my opinion that it is a truly awesome piece of work. We are all very proud of it as I am sure you are also.

Nicholas Dal Sasso — Managing Director